Women's Footwear /
Conversion & Measurement Chart
Please note that Superbalist women's footwear is designed to fit the following measurements. Some brands may vary from these measurements but they can still be used as a guide.
NOTE: Shoe Sizes are UK unless otherwise stated.
WOMEN'S FOOTWEAR
UK SIZE
EU SIZE
US SIZE

1

FOOTLENGTH

(MM)

2
35
4
200
3
36
5
212
4
37
6
229
5
38
7
237
6
39
8
246
7
40
9
254
8
41
10
262
9
42
11
270
How To Measure Your Feet
Wear socks similar to ones you'll be wearing with the shoes. While seated, put your foot on a piece of paper in front of you and trace around the circumference of it with a pencil, being careful to keep the pencil close to the foot.
1.

FOOT LENGTH

To determine your foot length, measure the distance between the two furthest points on your tracing.
---
SELECTING A SIZE
Observe the table above and find the measurement closest to your foot length. Choose the shoe size attributed to that length.
Art & Paper Sizes /
Conversion & Measurement Chart
Our Art sizes are illustrated below using a standard two division couch for reference and scale. A standard two division couch is 200 cm wide.
Please note that Superbalist sizes are designed to correlate with the standard size chart for all paper, print, & artworks.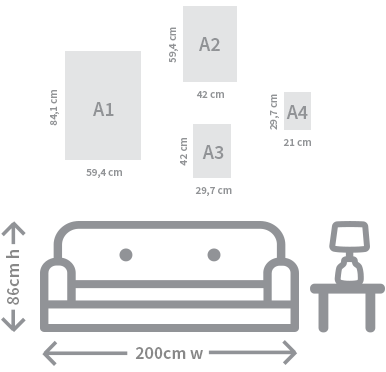 Size Chart
Please see the chart below for comparison.
Name
Size

in mm

Size

in inches

A0
W:1189
H:841
W:46.8
H:33.1
A1
W:594
H:841
W:23.4
H:33.1
A2
W:594
H:420
W:23.4
H:16.5
A3
W:297
H:420
W:11.7
H:16.5
A4
W:297
H:210
W:11.7
H:8.3
A5
W:148
H:210
W:5.8
H:8.3
A6
W:148
H:150
W:5.8
H:4.1
A7
W:74
H:150
W:2.9
H:4.1
A8
W:74
H:52
W:2.9
H:2.0
A9
W:37
H:52
W:1.5
H:2.0
A10
W:37
H:26
W:1.5
H:1.0
Understanding Your Paper Size